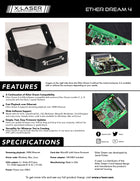 Description
We're super excited to serve as the distributor of the Ether Dream 4, the latest generation of Ether Dream laser DAC. It is fully software-compatible with previous Ether Dream models (1, 2, 3) while having a smaller form factor, support for ILDA output, Ethernet streaming, and USB firmware updates.
International customers outside the U.S. – Please email sales@x-laser.com with your shipping address and how many Ether Dream 4 systems you would like so we can provide an accurate shipping quote and timeline.
The Ether Dream 4 is available with or without the metal enclosure to suit your needs.
Ether Dream 4 – Features
Streaming playback over 100M Ethernet

Wide software support including: ILD SOS, LaserShowGen, LSX, MadLaser, Maxwell, Modulaser, TouchDesigner and many more (runs same protocol as previous Ether Dream DACs).

Compatible with the Radiator by Neon Captain

Sample driver code available for Windows, Mac, and Linux

ILDA output: 2x 16-bit (X/Y) plus 8x 10-bit (separate R, G, B, I, U1-U4)

Can be built into a laser projector; internal expansion header

Drag-and-drop firmware updates over USB from any computer, no software needed

Power over USB-C

MicroSD card slot (functionality coming in future firmware update)

Made in USA


Click here for the Ether Dream 4 spec sheet PDF.
Ether Dream was developed by Jacob Potter.
X-Laser is a distributor of the Ether Dream 4 and helped design and manufacture the product's external housing. Updated specs and photos including the updated housing will be coming in mid-2023.
We ship the Ether Dream 4 worldwide! For international clients: All orders shipped outside the United States will be subject to applicable taxes and tariffs to be paid upon delivery at the buyer's expense.